You won't believe the difference in prices between funeral homes – for the same things!
Important! If you aren't planning to use the funeral home for a viewing or service, you can choose based on price, not location. If you are only gathering at the religious institution and/or the cemetery – no one will be going to the funeral home. You can save thousand by heading out of your immediate area.
Planning a Funeral?
Figure out what you want using our decision tree, then check and compare prices on this list of New Jersey Funeral Homes and Prices
You can sort this list by any column.
1) Click on the blank box between column A and row 3 to select the entire sheet.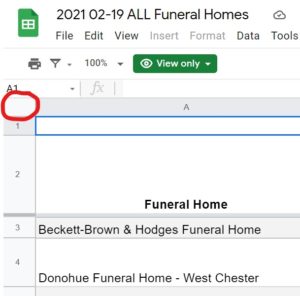 2) On the top menu line, click "data", then "sort range"
3) Choose the letter of the column you want to sort by and click "sort"
Don't see a funeral home listed? Let us know!
Don't see prices for a specific funeral home? That's because we don't have their General Price List. Call or email them and ask them to send it to you, then send it to us so we can include the information and help more people.
Planning Simple Direct Cremation?

All funeral homes are required by law to offer a package called "Direct Cremation." This is the simplest of arrangements with no embalming, and no viewing or service held at a funeral home. The body disposition is taken care of and you are then free to have a memorial service wherever and whenever you want (without involving – or paying – a funeral director).
Planning Simple Immediate Burial?
The simplest and least expensive burial option is Immediate Burial. If you skip viewing and service at funeral home and just have a graveside service. you can save a lot by not using a local funeral home. But, it is what it sounds like; the funeral director arranges for burial at a time convenient for them. However, many funeral directors are willing to negotiate a reasonable extra charge to have a graveside service and/or for family to be present for the burial.
Funeral Homes sorted by price of IMMEDIATE BURIAL
How to Save Money on Burial
What is Immediate Burial
Other helpful information for funeral planning:
Ten Tips for Saving Funeral Dollars
Simple and Cheap, My Father Said
How to Read a Funeral Home Price List
How to Save Money on Burial
How to Pay for a Funeral
Financial Assistance
Free cremation through Body Donation
Veteran's Benefits
Medicaid Assistance
Crime Victims
Infant Deaths
Indigent Deaths
Car Accidents
Social Security
Pre-Paying
Thinking about pre-paying? We don't recommend it except in certain circumstances such as spending down for Medicaid. See what the Funeral Consumers Alliance has to say about it here and the NJ Department of Consumer Affairs brief.