Support our work!
We are a volunteer-run,501(c)(3), not-for-profit organization. Become a member by making a donation of any amount and we'll send you:
My Funeral/Memorial Wishes – A simple form to express and share your preferences in regard to body disposition, funeral and memorial arrangements, etc.
Combined Living Will/Advance Directive/ Health Care Proxy form
A subscription to our newsletter
Invitations to lectures featuring nationally known and local speakers
Periodic updates to the funeral home price survey
A personal consultation with one of our volunteers to answer questions and help you make plans.
For more information about membership, check out the Membership Brochure or En Español
Donate/Join Now
Whether you have a PayPal account or choose to donate using a credit card or debit card, please remember to click "+Name(s) and phone number" and write the names of the adults in your household and your phone number.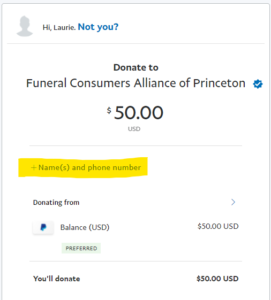 Donate/Join By Mail
Click this application for membership or En Español
Print and mail with your check to:
FCAP
50 Cherry Hill Road
Princeton, NJ 08540